New and unique offline advertising!
Enjoy the high yield on your investment while establishing brand loyalty!
---
---
---
ChargeTank Media mobile charging stations provide direct to consumer advertising. Our innovative advertising displays connect advertisers to engaged target consumers.
Bypass the expensive struggle to reach mobile consumers
Captive audience for as long as charge, dinner, or "wait time" takes
Units come with up to 20 customizable slides
Power up to 6 phones
Charging time is 50% less than other chargers
What is a mobile charging station?
Mobile charging stations are little "power" hubs that allow your business visitors to recharge their electronic devices. They also serve as an entertainment hub providing engaging advertisements and useful tidbits of information, that ultimately enrich your customer's experience.
How will this benefit my business?
While your customers engage with your mobile charging stations, they will enjoy the benefits of both a charged phone and shortened wait-time experience. Educate your clients with informative slides that further explain your products and services. This can reduce the time normally required for answering questions, while also helping your consumers make educated decisions about their purchase.
How will I SEE a return on my investment?
Chargetank Media mobile charging stations reach your target market at their most pivotal point in the purchasing decision. Whether you are a medical office, a bank, a realtor, a restaurant, a movie producer, no matter your industry – strategic placement in your office or at any venue will provide insight and confidence to consumers prior to their purchasing decision.
---
---
---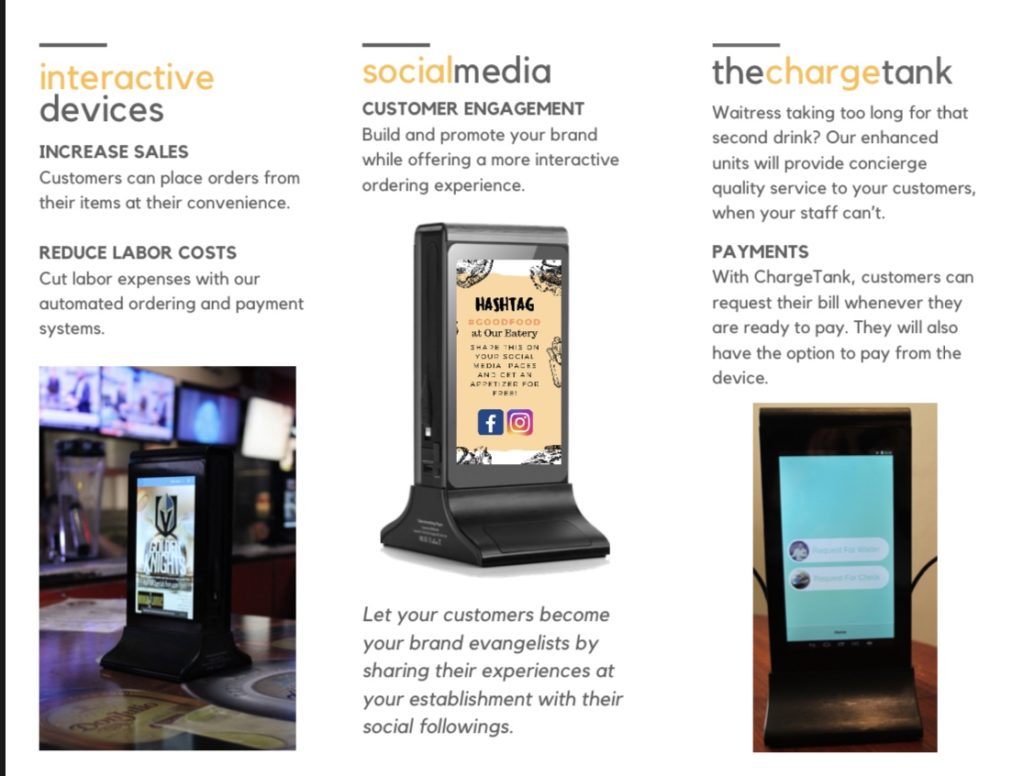 Some awesome features… Bringing the wow factor to your business while creating an experience your customers will never forget!
Cost Savings
Mobile charging station advertising Cost Per Impression (CPM) averages 150% less than other digital marketing platforms.
Mobile Marketing
These units can be easily transported to any business location or entertainment venue throughout the United States and abroad.
Continuous Loop
Advertise your services, specials, and promotions to a captive audience, while they charge.
Very Easy to Customize
Create engaging, custom designed and high energy graphics to capture the immediate attention of any prospect.
Consumers Love Them
Your gift of a FREE charge will leave a positive and lasting psychological association of your brand.
Well Supported
These systems can be programmed remotely from anywhere with an internet connection.